In the evening we will prepare the dough: Mix flour, semolina and salt. Allow the yeast to swell in a bowl with a little lukewarm water. If you use dry yeast, then 7 g for this amount. Mix the risen yeast with the flour mixture and gradually add the rest of the water, if you need a little more, to get a flexible, fairly wet dough. Cover and leave in a cool place all night.
2
Fry spices on chopped onion, cracked garlic and olive oil. Add minced meat. Fry until crispy. (We can add chili, puffed raisins or pine nuts to taste.) Season with salt and pepper. Let it cool.
3
Prepare the dough on a paper lined baking sheet. The photo shows a large plate. I dip my fingers in cold water now and then so that the dough doesn't stick and just "flatten" it to the desired size. The bread is not thin like pizza, it's a bit thicker.
4
Place the meat on top of the dough. Put heaps of thick white yogurt here and there. Sprinkle with chopped chilies. I give both green and red because of the color. Season with salt and pepper and drizzle liberally with olive oil.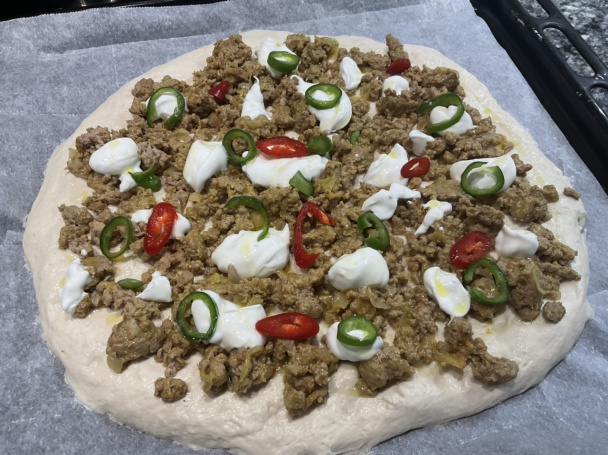 5
Place in a preheated oven. Bake at 220°C for about 10-15 minutes, depending on the thickness of the dough. Bottom heating, like for pizza. Sprinkle the baked with fresh mint, coriander or parsley to taste.