The mushroom season is in full swing, what about the catches? We bring you recipes, thanks to which you can try something new again!
However, you can get champignons or mushrooms in stores all year round, so we have some tips for you for a delicious lunch or dinner just like in a restaurant. Mushrooms play an important role in our recipes…
Chicken breast stuffed with mushrooms
Number of servings: 2
We need:
olive oil

50 g of mushrooms (white, brown)

5 cloves of garlic

fresh thyme

sea ​​salt in a grinder

black pepper in a grinder

1 eggplant

2 chicken breasts

100 g of spreadable semi-fat cottage cheese

rind of 1 lemon

1 handful of grated Grana Padano cheese

2 delicate onions

1 handful of young spinach

1 slice of butter
Access:
Pour oil into the pan and heat it. Gradually add finely chopped mushrooms, three cloves of garlic, thyme, salt and pepper and fry until golden. Then we put them in a bowl and let them cool.

Cut the washed and dried eggplant into cubes and place on a plate covered with paper. Salt and let it "sweat", thus freeing the eggplant from bitterness.

We cut the cleaned chicken breast in such a way that we get larger plates, which we pat under the foil. Salt and pepper.

Mix the cooled mushrooms with cottage cheese, salt, pepper, lemon zest and grated cheese. Put the filling in the center of the leaves, wrap it in a pocket and close it with toothpicks. Fry the pockets in a heated pan with oil until golden brown on both sides. Then let them finish baking in an oven heated to 200°C for about 5 minutes.

Dry the eggplant, season it and fry it in a pan with oil. After a while, add finely chopped two garlic cloves and the white parts of delicate onions. Season with chopped thyme and drizzle with oil as needed. Finally, add washed and dried spinach, a slice of butter and set aside.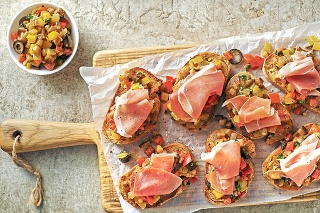 Servicing
Chicken breast stuffed with mushrooms is served with roasted eggplant and baby spinach. Garnish with the finely chopped green part of the onion.